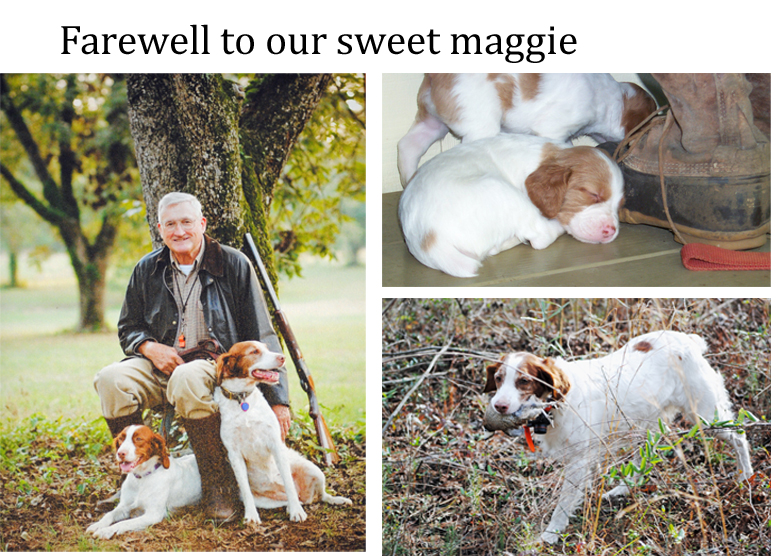 Our hearts broke today as we said goodbye to our sweet, sweet baby. Delivered straight into Bob's hands on July 19, 2005, she was the prettiest lil' pup you ever saw. One of eight, Maggie's first name was Spot because of her big red spot on her almost totally white body. "Easy to see in the field", Bob said, so together with her delightful personality, she became the chosen one; because Bob would only allow one puppy to join our family with the pups mom, Sadie Mae. Since Spot was a permanent addition to the Hunter family, she needed a proper name. I named her Maggie, but this was just not proper enough for Bob. Being a true Southern lady, Maggie became officially Hunter's Magnolia Blossom.
We had always believed that to be properly trained, puppies should sleep in their crates at night; after all, Sadie Mae had taken right to hers and never made a peep. Just so happens that other puppies left for their homes, and Bob left town for a gun show. First night I lovingly placed Maggie in her crate for the night. "What! Where are my brothers and sisters?  And what is mama doing out there, while I'm in here?" You have never heard such a sound…I tired to reassure here, but Maggie wanted out; so out she came, NEVER to return. When Bob came home a few days later, Maggie had claimed her permanent spot on the bed. How could I resist puppy breath? And I have never regretted that move…I can't imagine how I will ever rest again without Maggie curled up against my legs.
Maybe it's just the contrast with her mom, or maybe Maggie is the sweetest dog in the world. Don't get me wrong, Sadie Mae is our first baby and we could not love her any more, but Sadie Mae is Sadie Mae, just ask anyone who knows her…ornery, loud, demanding. Magnolia Blossom was gentle, loving, soft spoken…like I said, the sweetest.
"Spot" aka Maggie and her litter mates were pointing dragonflies at five weeks. She is a ballerina in the field, graceful and elegant. She and Sadie Mae were a team in the field working together like clockwork. Maggie has been known to stop in the middle of a retrieve, with the quail in her mouth, to point another covey. She has been a part of many hunting memories for Bob and his hunting buddies.
But even more important than hunting, Maggie and her mama, are our girls, our babies. Much better trained than our children, and our kids say we never treated them as good as the dogs. They have been our traveling companions to the beach and to South Dakota, pheasant hunting with Bob. And Bob knows where all the "pet friendly" hotels are, and plans trips to get there every evening. Sadie Mae takes a bed for herself, but Maggie always snuggled up with Bob. Most of our grandchildren have no memories of Mawmaw and Pawpaw on the farm without Maggie. We're a package deal…now a big piece has been ripped off…feels like our hearts.
Just this week I listened to our son, Cooper, remind his children that we need to be grateful for what we have, and not whine about what we don't have. We are trying to do that now. We want to be grateful for the almost nine years that we have enjoyed Maggie. Many will never know the joy of loving such a sweet baby. Will we see Magnolia Blossom Hunter again? Bob and I believe we will. We know that God loves us and delights in giving us good gifts.
Every good and perfect gift is from above, coming down from the Father of the heavenly lights, who does not change like shifting shadows.               James 1:17
God gave us Maggie, and we know that He will give her back to us again. I asked Bob last night how we were going to stand this, and he said, We won't, we'll be lost for a while, and then we will remember the good times, and forget the bad." I am so thankful for all the good times to remember. Bob often called Maggie the "little bitty pretty one." So Little Bitty Pretty One, we love you and we always will.
The Hunter Collection deals in fine guns, new and used – custom Brownings, imported Spanish, Italian and French guns, also sells fine Turkish walnut.
You can also buy sporting books and prints, Parker Hale gun cleaning accessories and Bulino engraved knives.